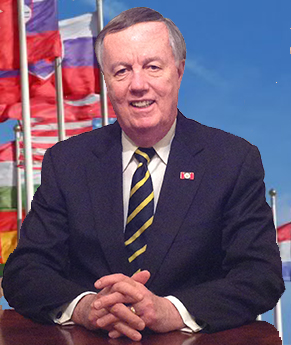 Gary Bottorff is the Founder and Chairman of One World Expo, Inc. a "C" Corporation in the State of Virginia. Gary's background includes twenty-four years as a military-political officer retiring as an Air Force Colonel (O-6). Colonel Bottorff's breadth of experience includes international trade and intelligence, senior staff positions in the Pentagon, Congress, and in the White House, as well as becoming a successful business entrepreneur. Since retirement he has founded, and successfully managed three for profit companies, and one charity (501-c-(3). He also was the primary fundraiser for another education foundation. He has BS in Business and an MS in Education.
He spent twelve years overseas both in Europe and the Far East posted as a senior military-political representative involved in international trade. Colonel Bottorff spent 5 years as the headquarters liaison officer for all the Air Force attaches in Europe and North Africa. This continued in Asia where he was assigned to the Embassy in Bangkok, Thailand. Responsibilities were on a continuum from arms sales/transfer, to sensitive negotiations on multi-billion dollars sales and counter-trade partnerships. Later, working on the staff of the Chairman of the Joint Chiefs, he participated in the negotiations for a multi-billion dollars arms sale to Saudi Arabia, and as a consultant his company represented Egypt in the U. S. for several years importing Egyptian goods. As part of the initial staff in the Department of Defense's "Star Wars" program, Colonel Bottorff's office was responsible for liaison with foreign allies in their participation in the multi-billion dollar research programs. Duties included introduction of the top scientist to U. S. corporations through site visits, and negotiations of lengthy Memorandum of Understanding (MOU) between governments.
In the area of government contracting Colonel Bottorff has represented prime and subcontractors in winning in excess of $600 million in government contracts. Working across business sectors to include government contractors, foreign governments, nonprofit, Federal DOD and Civilian agencies focused on teaming, and joint ventures. In one case working for a subcontractor, the team was awarded a single contract worth over one billion dollars (Resolution Trust Corporation (RTC). His innovative approach to finding and "capturing" government contracts has been written about in Ink Magazine, the Defense News, the New York Times, and Nations Business. Throughout his career he has demonstrated innovation and leadership in finding creative and new approaches to old problems in many disciplines to include education, global trade, government contracting, and fundraising.